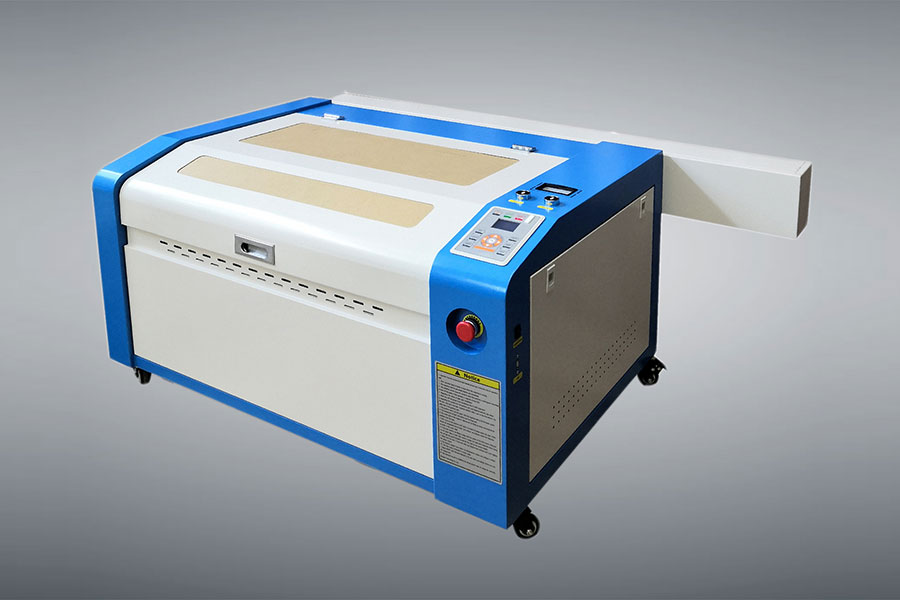 REDSAIL Professional Cyclone Series Laser Engraver and Cutter M4060E
If you're looking for a professional grade desktop laser engraving or cutting machine to inspire your small business or DIY projects, then REDSAIL Cyclone Series Laser Engraving and Cutting Machine may be the best laser machine under $2K on the market today. Get 1200mm/s more speed and 100W more CO2 power vs. competing hobby lasers.
US $1999.00
US $1999.00 (Without shipping)(-0%)
Savings: US $0.00


Support offline trading, please contact us for more information.
Add to cart
SPECS
Model

M4060E

Working Area (mm)

600 x 400

Laser Power

50W/60W/80W/100W

Control System

Top Wisdom(AutoLaser )with direct WIFI function

Laser Type

Sealed Co2 glass, water cooling

Water Cooling System

Water pump (Water Chiller is option)

Working Table

Blade Table/Honeycomb Table

Motorized up/down table

180mm

Drive Type

Stepper Motor

Transmission Type

REDSAIL patent high speed driving system

Max Speed

1200 mm/s

Image Format

PLT, DXF, BMP, AI, DST etc.

Interface

USB3.0 / USB Flash Disk

Resolution

2500 DPI

Power

110V or 220~240V / 50-60HZ

Optional

Upgrade Water Chiller(CW-3000/CW-5000/CW-5200)

Red-dot positioning function

Rotary Attachment

RUIDA controller(RDworks)
APPLICATION
REDSAIL Cyclone Laser Engraving and Cutting Machines are for the different kinds of application, such as Advertising industry, Office Industry, Packaging Industry, Gift Industry, Decoration Industry, Printing Industry and so on.
FEATURES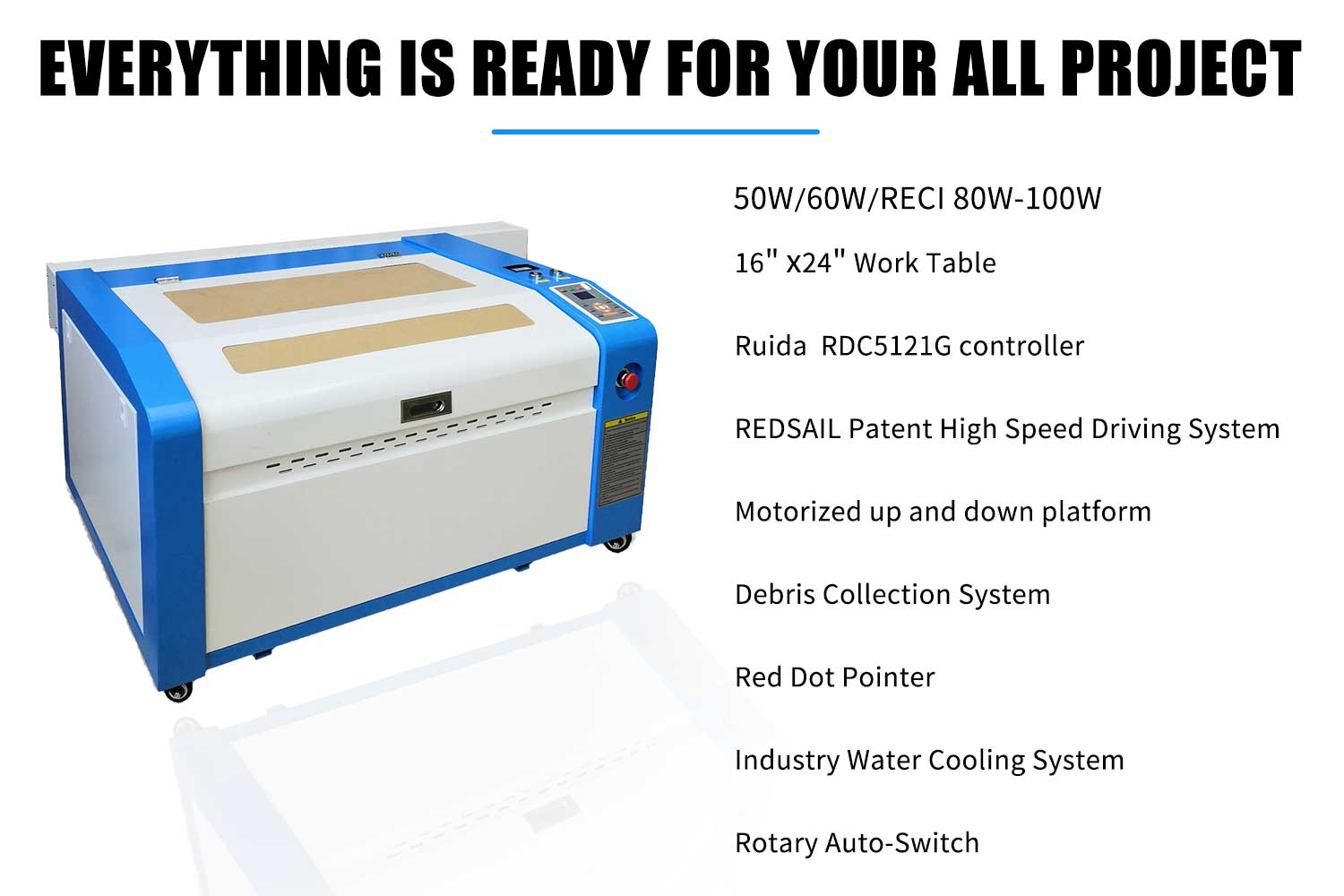 ASK ABOUT OUR FREE ON-SITE DEMO!
We can make a free LIVE demonstration online!
REDSAIL Cyclone-SERIES CO2 Laser Machine
REDSAIL Cyclone Series - Select between 50 watts to 105 watts of cutting power with a life time performance of up to 10,000 hours. We test our laser multiple times throughout the assembly process to ensure a quality beam profile and maximum power.
The Cyclone-Series is engineered to handle demanding production environments and long workdays while delivering consistent results for every job. By constantly refining and improving the beams power density the Cyclone-Series generates a powerful cutting beam with exceptional engraving resolution. Each Cyclone-Series Laser Machine has lifetime free warranty.
Laser Software
RUIDA DIGITAL CONTROLLER/TOPWISDOM DIGITAL CONTROLLER WITH DIRECT WIFI: Photo-ready to convert images from HPLG, BMP, GIF, JPG, JPEG, DXF, DST, AI formats for laser processing. The intuitive control panel with a digital display allows complete control of the laser head, pausing and stopping projects, adjusting laser power and speed settings, file viewing, and project framing via Windows-compatible RDWorks V8 which can also be compatible with LightBurn software-- all-in-one layout, editing, and control software package that is extremely intuitive and feature rich.
Honey Comb & Knife Blade Platforms Offers Flexible Material
Both the Knife Blade and Honeycomb platforms are included for flexibility whether cutting or engraving material.
REDSAIL Cyclone Laser Details:
VENTILATION:A pre-installed fan expels smoke and fumes to create a safer workspace and extend the service life of your machine.
RED DOT GUIDANCE:Red dot pointer mounted on the laser head quickly indicates engraving points, marks the machine's path, and identifies the positioning size, allowing an effortless project setup process.
AIR ASSIST: Provides critical air flow during laser processing preventing material deformation.Also, Keeps dust, debris and combustible gas away from laser head preventing focal lens contamination, keeping your worktable cleaner and more safe and engravings more precise.
REDSAIL PATENT DRIVING GUIDING SYSTEM:Equipped with the better transmitting system - REDSAIL Patent professional high speed driving way can reach the engraving speed to be 1200mm/s with better working result, higher working efficiency and longer service life.
WATER PROTECTION SYSTEM:Pre-installed signal plug along with the included industry water chiller allow for a fast and easy setup, protecting the laser tube max working life.
Push Button Z-Axis
Motorized Z-Table With Working Height Of 8" accommodates taller objects.
The taller cabinet for the REDSAIL Elite Industrial series laser cutter gives you additional work space including up to 8" of vertical Z-axis movement.
At the push of a button you can lower the platform to accommodate taller objects of up to 10" in height.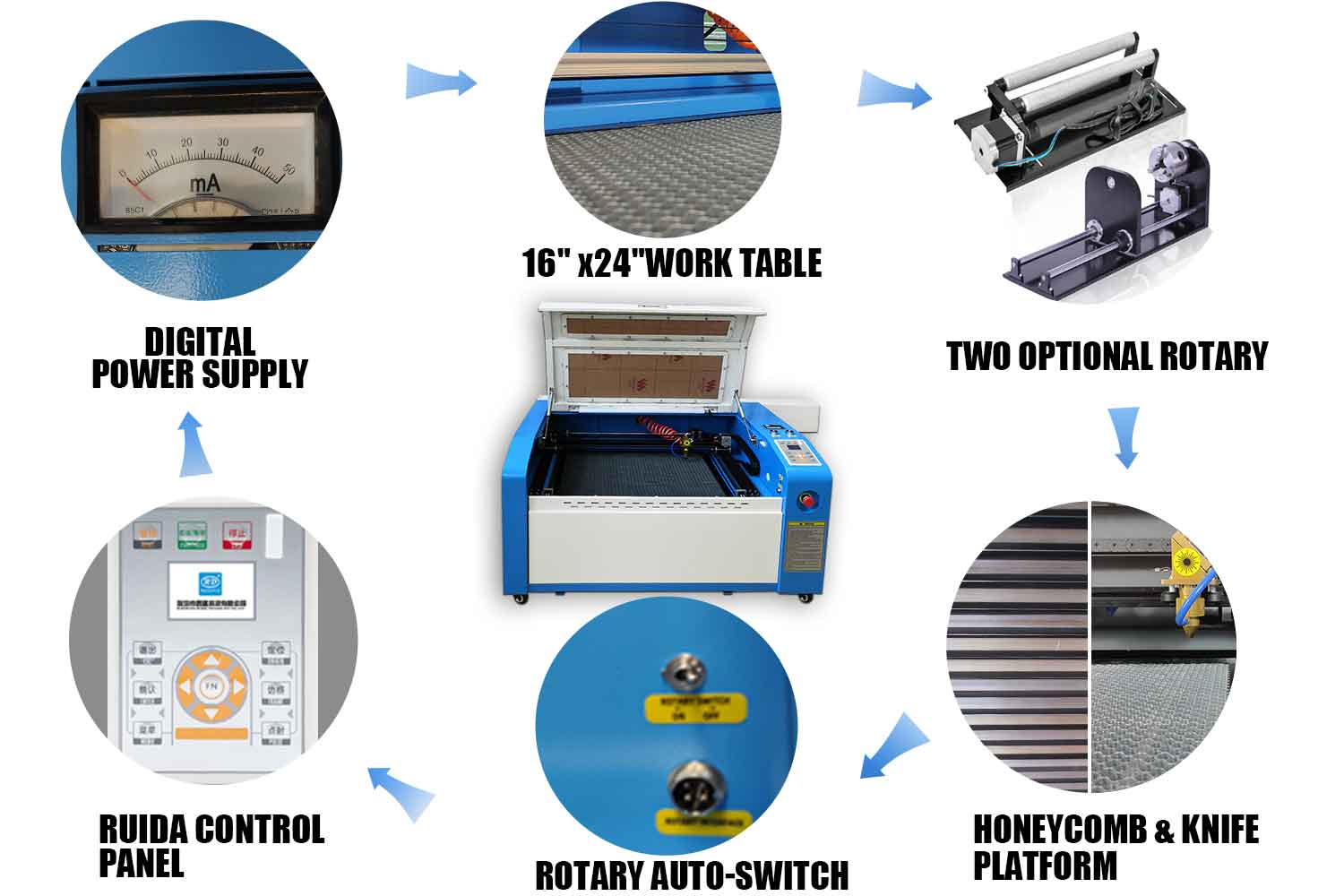 Stepper Drive System
New available Drive highest precision in same class stepper motor drive system.
New & Easy Laser/PC Connectivity Via. WI-FI, Or USB
Various laser to PC connectivity choices - USB, or Direct WiFI.
New 256MB USB Flash Drive For Alternative Job Storage
As an alternative to the onboard memory available on the controller card you can also save or run jobs from the 256 MB USB flash drive.
PC Compatibility Windows, Mac OS, Or Linux
Just Using your current computer! Windows 32 or 64 bit is ok for any software, Windows, Mac OS, and even Linux operating systems 32 or 64 bit is ok if you use LightBurn.
Quality Management System -CE/FDA
More reliable with CE and FDA certificate.
Tech Support 24 hours
REDSAIL Tech Support team is here to serve and support from the day you receive your REDSAIL Laser and for as long as you own the machine. Our tech support utilizes video, help manuals, phone, email, remote support via. Team Viewer, FaceTime, and even on-site support if necessary.
Warehoused Replacement Parts & Accessories For Quick Replacement
Having supported thousands of businesses, hobbyists, educational, military, and Government institutions we know and understand how critical it is to be able to deliver replaced spare parts and timely support. Quality support begins with warehousing ALL parts to the machine you purchase - in our facilities. That way if you have an issue with your laser cutter, we can not only diagnose the problem and can also ship you the part you need same or next day. This way you experience minimal down time.
Lifetime Free Warranty
REDSAIL has improved its warranty! We offer lifetime free warranty for all laser machines.
DIMENSIONS
M4060E-50W/60W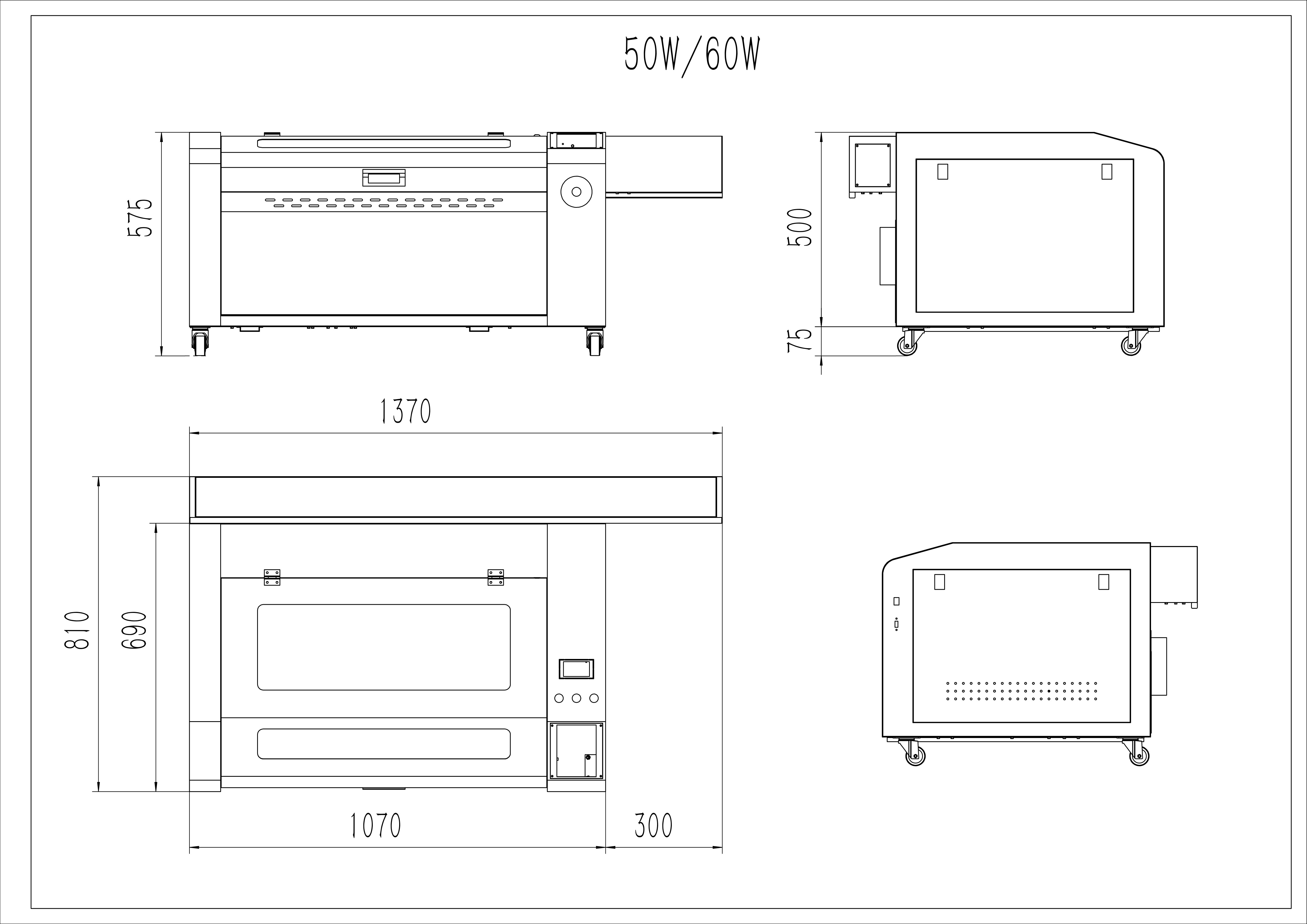 M4060E-80W/100W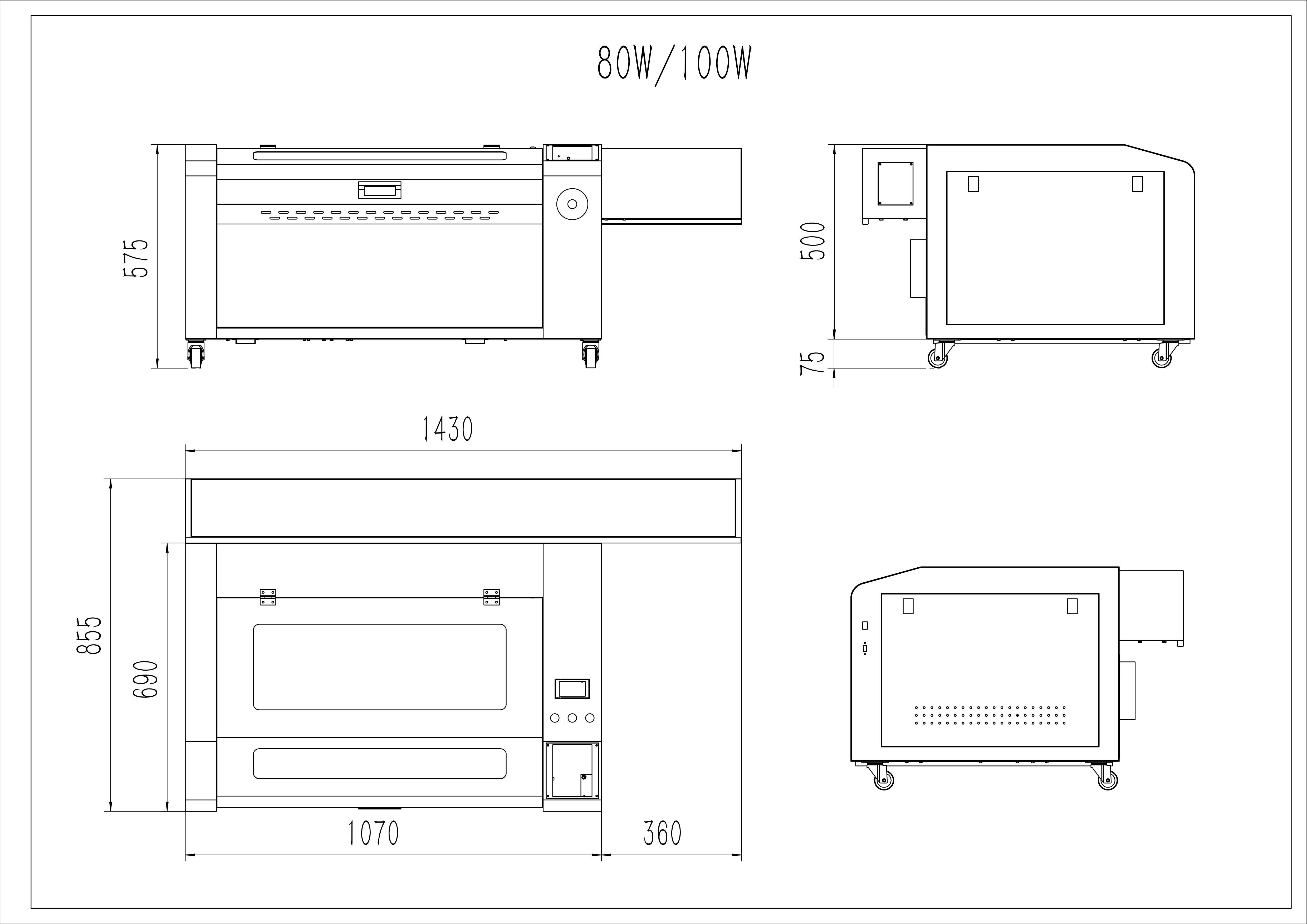 Product sample drawings